On April 14th 2017, Vietnam Airlines Engineering Company (VAECO) – a member of Vietnam Airlines held a ceremony to announce EASA-145 Maintenance Organization Approval Certificate  issued by European Aviation Safety Agency (EASA).
Dr. Nguyen Cong Phu taking photograph with Deputy Minister of Transport Le Dinh Tho (person in the middle)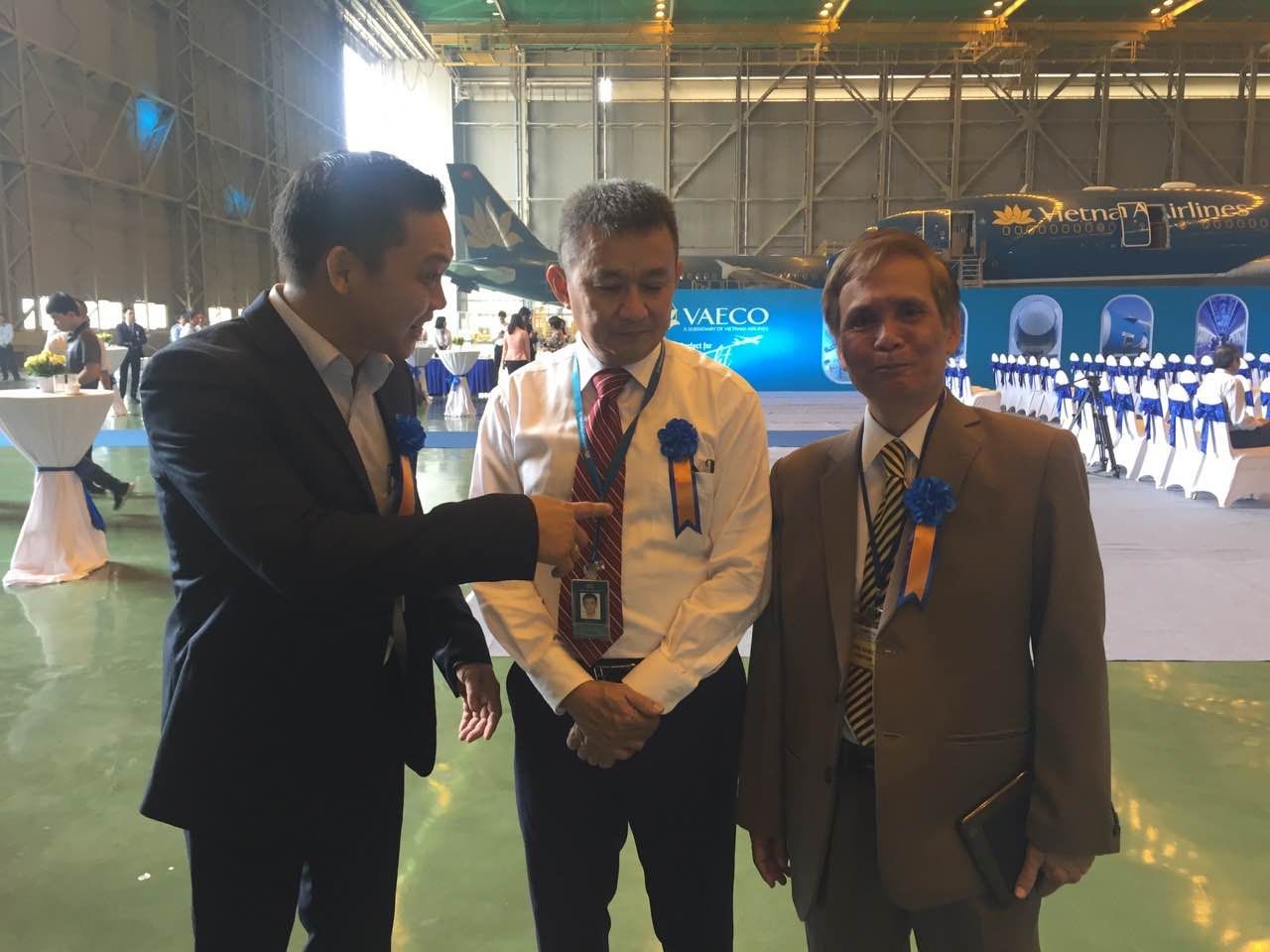 Mr. Duong Tri Thanh (in the middle) – General Director of Vietnam Airlines and Mr. Nguyen The Hoang – Deputy General Director of Jetstar Asia (in the left) 
The ceremony was with the presence of many senior officials of Ministry of Transport, Civil Aviation Authority and Vietnam Airlines.
APAVE's representatives were General Director Nguyen Cong Phu, Mr. Theodore Nguyen Tan Hon – Director of Aviation Development and Ms. Nguyen Bich Hang – Director of Communication.
EASA-145 certification is very important in providing maintenance services that meet the requirements of European Union's laws. The maintenance organization that receives EASA-145 certificate, is authorized to provide maintenance, repairing and commissioning services for registered aircraft in Europe.
Dr. Nguyen Cong Phu taking photograph with Board of Directors of VAECO
At the ceremony, Deputy Minister of Transport Le Dinh Tho praised the achievements of VAECO – Vietnam Airlines, gradually affirmed its leading role, master the most advanced science and technology in the world, as well as affirming the competence and position of Vietnam aviation in the process of integration with the world.
With EASA-145 certificate, VAECO is the first and only aircraft maintenance organization in Vietnam to receive the world's prestigious certificate, expanding competence in providing maintenance services for clients in the region and the world.
Over the past two years, APAVE Asia – Pacific has accompanied and consulted VAECO to meet the strict requirements of the EASA-145 standard. Through this event, APAVE again demonstrate its competence in the field of Aviation.
Although the development of the services in this field will have more challenges, but with the "Mission of Confidence", APAVE commits to always accompany with clients, especially safety is priority first.
Dr. Nguyen Cong Phu and Mr. Ha Tien Dung – Quality Director of VAECO